Every picture tells a story ……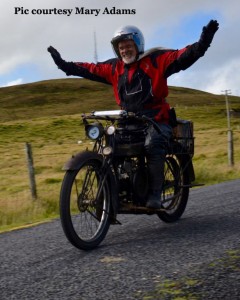 This photo, taken by Welsh entrant Mary Adams, shows John Quirke flying high on his Douglas after pushing it most of the way up Camp Hill.  If you know Camp Hill, then you know why he's smiling!
Day 1 was a day of 2 halves – wet and slippery roads in morning, but dry and sunny in afternoon for our run over Camp and back through Castlemaine, Killorglin and Beaufort.
Todays run covered 118 miles.